November 24, 2020
How Email Marketing Will Work in This Pandemic?
Data Hygiene, Segmentation, and Personalization- A Requirement for Successful Email Campaigns
The digital revolution was fast-tracked by the COVID-19 plague which affected all parts of the marketing technology stack, from platforms to apps. While the number of email marketing campaigns has increased, no one is looking into how email marketing will work in this pandemic.
Email marketing ranked as the best marketing channel in terms of ROI (Return on Investment), showing 68% of companies rating it as 'good' or 'excellent.'
Here is the Answer for How Email marketing will work in this pandemic
Email marketing is a great way to keep customers clued into company news, events, promotions, new deals, and offers. It's a cost-effective and easily-accessible marketing technique that delivers real revenue results for businesses regardless of budget. It's also a powerful way to keep prospects engaged and makes it easy to track the results.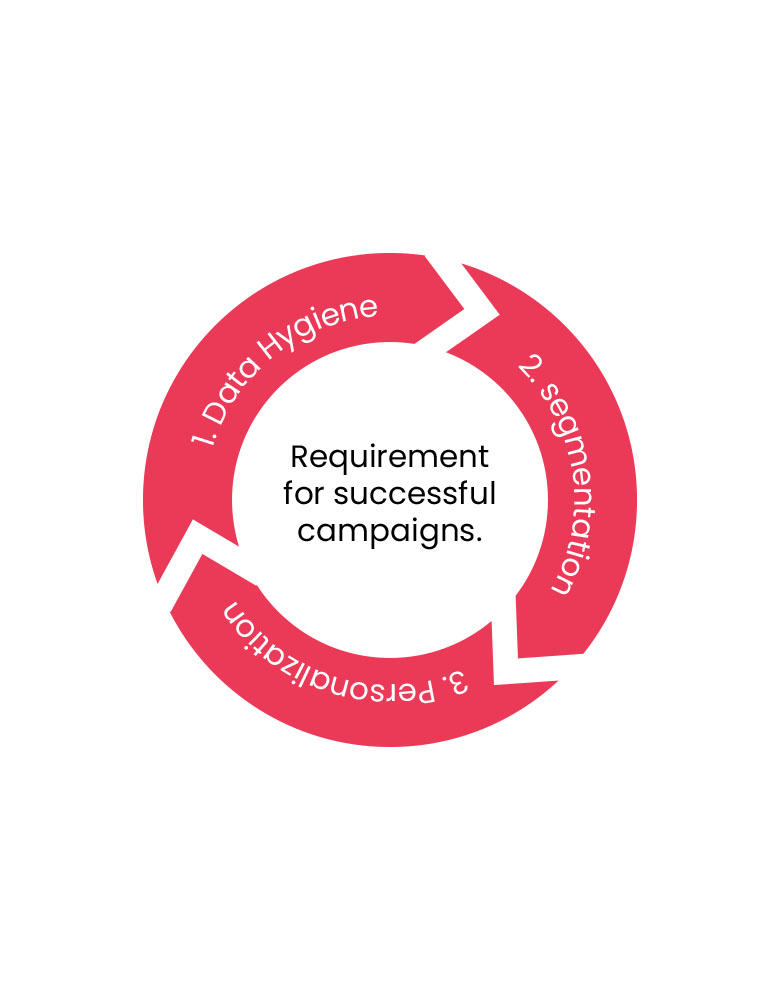 Beginning of March 2020, most of our inboxes were overloaded with emails from captains of industry talking about COVID-19 compassionately. But as time went by and every day came, people became patient and more aware of the pandemic, which made everyone a little less fearful.
The importance of data hygiene
While email open rates went up from March to April, one of the top cues that we took from the COVID pandemic is that email marketing data hygiene and upkeep must continuously go on and not consigned to an annual, quarterly, or even a monthly task.
Data hygiene is the process carried out to ensure the cleanliness of data. Data is considered to be clean if it is relatively error-free. Data hygiene is the newest email marketing attribute, making sure you keep healthy email database for keeping your prospective customers warmed up and ready to buy. At the beginning of the COVID outbreak, we saw how data hygiene and data silos are still of paramount importance.
"A small list that wants exactly what you're offering is better than a bigger list that isn't committed." – Ramsay Leimenstoll.
Segmentation for success
The beginning of COVID-19 made sending bulk emails to a group of different individuals a thing of the past. We now look at audience segmentation and message personalization as a requirement in email marketing. Email marketing segmentation also helps to improve the open rate for your emails.
When you are segmenting your database, it is not just cutting out contacts off your database, and understanding whom your target audience is taking a step further. Complete your database segmentation before you come up with content ideas to create content relevant for a particular audience and improve the open rate. When creating email marketing content, one needs to be mindful not to leave the actual content while focusing on data hygiene and personalization strategies.
To succeed, keep your messaging precise, and segment your audience with every campaign.
Here are some New practices for Email marketing that will work in this pandemic
Make sure all recipients have actually opted-in to receiving your emails. Seriously. We can't emphasize this point enough.
Send your email campaign from a good IP address. That is an IP address that hasn't been used by someone else who has sent spam in the past.
Send emails through verified domains.
Keep your email template code clean.
Use merge tags to personalize the "To:" field of your email campaign.
Show subscribers how to whitelist your emails, and ask them to add you to their address book.
Avoid excessive use of "sales" language (these are spam trigger words like "buy", "clearance", "discount", or "cash").
Don't "bait-and-switch" by using deceptive subject lines.
Include your location.
Include an easy way for subscribers to opt-out of your emails.
Almost all of this is handled when you choose the best email marketing services.